Residential Alarm Systems with Cellular Monitoring
It's a fact -- many burglars are scared off by just the presence of a security system. Burglars attack unprotected homes up to three times more often than homes with a professionally installed electronic security system. If you're ready to invest in a serious system to protect your family and possession, call Intruder Alert. 
What's a "good" security system?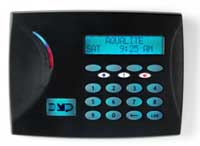 Well, it's not one from the hardware store after your home has been ransacked. A good system protects entire perimeter (outside and around) of your home. It alerts you when there's an intrusion and lets the intruder know he's been detected. It limits damage, gets help and, it's easy to use.
A standard security system includes a control panel, a siren, an inside motion detector, and door and window contacts. It will be linked to an outside monitoring center for around the clock coverage and professional response. In addition to monitoring  your system by the phone line, you can also receive long range radio backup monitoring. This ensures your system can be monitored even if the phone line is cut. Intruder alert systems offers any level of protection that your home, family and lifestyle may require.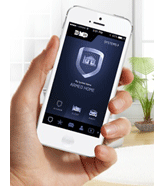 Cut the cord — check your home security from your mobile device!
Now you can check the status of your home security system right from your mobile phone. You'll be able to check if your home and property are secure, or whether the kids got home on time just by dialing into your system from your phone. The system will send you detailed reports via text message.
You can drop the phone line altogether when our central station personnel track your security system via cell path only — eliminating the need for a traditional telephone line for security monitoring!
Complete Home Automation Systems from Intruder Alert
Get complete automated control of every device in your home with a Home Control system from Intruder Alert. Control heating and air conditioning, entertainment devices, sprinklers, lighting, even water temperatures for the bath! Click here for more information and to find out how you can provide the ultimate in convenience and safety for your family and home.
Let us show you how easy is can be to protect your family and home. We'll be happy to perform a no-obligation security survey and demonstration at your request. Call 210-494-4900 today.

---
Get the most from the great features available on your home system!