Complete Home Control from Intruder Alert
Bring the Smart Home to life with an HAI Home Control system from Intruder Alert. The system controls and monitors devices in your home to maximize your safety, comfort and convenience, and maximize energy savings. Home Control systems are simple to understand and use. Even children can learn how to use the basic features of Home Control systems.
Reliable, advanced technology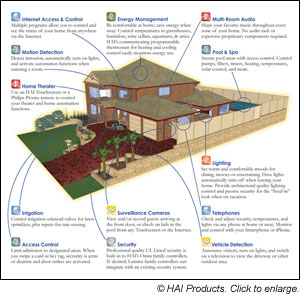 Home Control systems use reliable sensors and controllers. Controllers have no fans, disk drives, or other moving parts that may be prone o fail.
Home Control devices can work in a stand-alone mode so they are not dependent on any other products in the house, including computers. No single part can cause an entire system to fail. Your normal light switches still control the lights, and thermostats still control your heating and cooling system.
How Home Control Works
HAI Home Control systems can take one or more actions when certain events occur, such as:
Events that can be used by the system to take actions include the following:
Any change in status in a monitored home system
Set a schedule of days and times. For example, landscape lights can be set to turn on at dusk and turn off at 10:00 PM.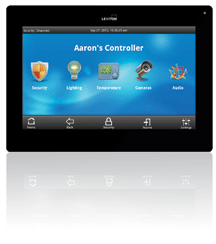 Multiple Interface Options to control our home from inside our out
Check and adjust lights, temperature, security, audio and more. You can check and change the status of your home security system over the phone from either in or
away from your house.
Home Control systems offer touchscreen technology to give you control of your system using simple on-screen icons. Customizable models give you complete control of the look, feel, and function of your touchscreen.
Ask about complete Home Control from Intruder Alert
We'll be happy to perform a no-obligation security survey and a complete demonstration of our Home Control system at your request. Call 210-494-4900 today.
Intruder Alert Systems is proud partner of Leviton Security & Automation and Nuvo Whole Home Audio.
All work requiring a license for HVAC, electrical or locksmith work for components used in home automation integration is performed by a properly licensed professional.
Safety and Security with Home Control
An HAI Home Control system from Intruder Alert is the ultimate in intelligent home security. Our built-in UL Listed, CP-01 compliant security and fire systems detect intrusion, smoke and fire, carbon monoxide, water and other hazards through wired and wireless sensors.
Home Automation offers video surveillance and recording, allowing you to check on your home via PC, PDA, cell phone or a web-enabled phone.
Go Green with Energy Management
Promote energy efficiency and reduce energy consumption while maximizing your family's comfort.
Achieve comprehensive energy management and lighting control for both homes and small commercial buildings.
Schedule heating and air conditioning to lower temperatures when you're away and warm or cool your home when you return.
Control hot water heaters or pool pumps.
Control lighting to enhance the enjoyment and value of your home while lowering your energy bill.
Entertainment
Integrate and control A/V equipment, lighting, temperatures, and other systems from a single remote or touchscreen.
Set up audio in up to 16 different rooms.
Adjust home theater equipment and lighting, draw window shades, and set temperatures from a single remote.
HAI Videos
HAI Omnistat2 Thermostat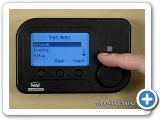 web video player by VideoLightBox.com v3.0