Fire Alarm Systems

A Fire Alarm system may be designed and installed separately or as part of your overall security for home or business. Intruder Alert Systems is one of the few companies in San Antonio to have a NICET Level III Fire System Planner (he is a co-owner). Because of this we can perform complete fire system installations including planning, plan submission to the proper government authority, and complete installation of your fire protection system.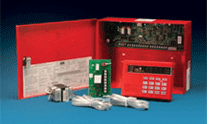 Intruder Alert stays on the leading edge of fire alarm technology to provide the very latest equipment and services. We will perform a no- obligation fire survey to show you the best way possible to protect your business and employees with advanced Fire protection systems.
Call 210-494-4900 today.